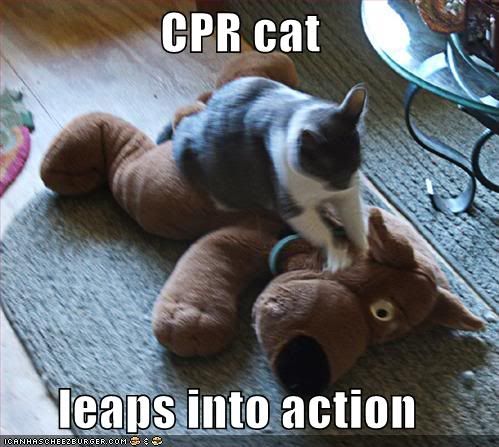 The concept of chest compressions and rescue breathing was first introduced exactly 50 years ago. The first CPR guidelines was developed in 1966.They had the A-B-C-D approach. A precise time frame for doing things was not there(as we ve now).But they did incorporate checking the pulse periodically and listening to breath sounds. They did not ve the 5Hs & 5Ts
.
The current guidelines have been altered to some extent from the previous one on 2005.
Some of the salient features of the latest guidelines...
1.The A-B-C approach has been changed to C-A-B approach.( applies mostly to lone rescuer CPR...as these are done simultaneously in the hospital setting). NEJM 2010
2. More emphasis on ..not to take >10 sec checking for pulse...as compressions in someone with a pulse does not do much harm..as not doing it in some one without a pulse.(Circulation 2010). The chest compressions should be atleast 2 inches in depth.
3.
Class I recommendation for adults:
use of quantitative waveform capnography for confirmation andmonitoring of endotracheal tube placement.
4.
Atropine
is no longer recommended for routine use in the management (PEA)/asystole.
Adenosine
can now be considered for the diagnosis and treatment
of stable undifferentiated wide-complex tachycardia when the
rhythm is regular and the QRS waveform is monomorphic.
5.De emphasis on intravenous medications during CPR. Have a look at this study from JAMA 2009, which did not show a significant improvement in short or long term survival for pts with Vs without intravenous medications during CPR. iv medications did significantly improve the chances of spontaneous circulation though.Surprisingly....epidemiological studies have shown that epinephrine is an independent predictor of poor outcome from CPR (? due to interruption with compressions!!)
6.Emphasis on therapeutic hypothermia after cardiac arrest. This has proved to benefit neurological recovery both in- & out-patient setting with both Vfib & non-Vfib rythms. Interestingly.....American Academy of Neurology in 2006, proposed predictors of poor prognosis after a cardiac arrest. These predictors....have to be carefully interpreted and may not apply these days..with the use of therapeutic hypothermia ( EEG with activity.. may help with prognostication in this setting- Ann Neuro 2010). Check these parameters 72 hours after the cardiac arrest.
Have a look at this...
pdf
for comparison between 2005 & 2010 guidelines.