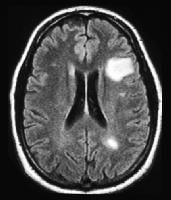 As we all know MS is an inflammatory, demyelinating disease affecting the central nervous system. MS is a dynamic disease with constant formation of new lesions and a progressive clinical course resulting in disability.
*
For every 8-10 new lesions detected on magnetic resonance imaging (MRI), only one clinical manifestation typically can be demonstrated.
*
Patients with relapsing remitting MS have an average of 5-10 new lesions per year and 1 or 2 clinical exacerbations
*
no etiologic agent for MS has been identified
*MRI of head and spine with and without gadolinium shows the lesions(plaques). Enhancement of a lesion on T2 weighted image is indicative of an active lesion. Lesions that dont enhance are chronic lesions. Usually its a mixture of both. One differential here in a patient with 10 or more enhancing lesion on first presentation is Acute Disseminated Encephalomyelitis(ADEM). A history of recent vaccination/viral illness points more towards ADEM than MS in this scenario.
*CSF oligoclonal bands (which are IgG) is elevated in nearly 85 -90% of patients and serves as a good test with high sensitivity. So if negative....the likelihood of MS is low.
IgG Index, which is calculated as follows (IgG
CSF
/albumin
CSF)
/(IgG
serum
/albumin
serum) is usually elevated. ( Normal is < 0.77)
*Management is usually a multidisciplinary approach( as it is with most of the neurological illness)
* An acute exacerbation, if it is severly disabling should be treated with 1mg/kg/day of i.v methylprednisone for 3-5 days with a taper over next 2-4 weeks. This has shown to reduce the duration of disability, but does not improve the degree of resulting disability. (Neurology 1998 )
* Options for reducing relapses are many.
interferon beta-1a IM (Avonex), interferon beta-1b SC (Betaseron and Extavia), glatiramer acetate SC (Copaxone), & interferon beta-1a SC are immunomodulators used in this aspect. In general these agents reduce the relapses by one third...with efficacy being high for high dose high frequency(HDHF) interferon
Betaseron (34), Rebif (33%), Copaxone (29%). But on the whole ...studies had shown variable results. for eg. INCOMIN study in 2002 showed benefit with HDHF interferon compared to low dose....which was later disproved by Danish MS study in 2006.
* The latest drug approved by FDA is Fingolimod...based on the recent TRANSFORMS study in NEJM 2010 which showed fewer relapses compared to interferon 1a over 1 year period. One advantage of fingolimod id that it is a oral medication...as opposed to all other meds(either im or sc).
*Modafanil or amantadine can be used effectively for symptoms of fatigue ...in pts with MS.
Its not much to choose in between the medications..in terms of efficacy. So therapy can be guided by patient profile and side effect profile of the drug.